Why join Yogagem?
Forget gym membership, being squeezed into a yoga studio with your face inches from someone or simply doing the same routine over and over again. Yogagem is a community where you're not a face but a name. Each week is different and tailored to what you would like to work on. The classes are limited by size to ensure you get a personal experience and a truly magical feeling to take home.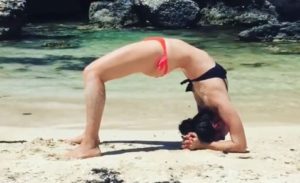 Something comfortable that you can easily move in. T-shirt and leggings or shorts for example. Ladies make sure you have a supportive bra and men make sure you wear tracksuit bottoms or two pairs of shorts (we don't want any mouse out of the house!)
If you have a yoga mat make sure you bring it along. For those who are trying yoga out for the first time, spare mats are available. There is no need to go shelling out on a designer mat. Many supermarkets sell great styles for under £20!
Your Main Message
Use this space to tell people what your company does and why and how it does it. What're you known for? Who likes you? What's your number one competitive advantage?
Include all the things that make your business unique and better than the competition. Do you have a patented 13-step process for taxidermy that results in the most lifelike stuffed owls? You gotta mention that.
Other good things to weave into this copy include: awards won, distinctions given, number of products sold, company philosophy (just keep it short), interesting company history bits, and anything that makes a reader think you'd be awesome to do business with.
Next Steps…
This is should be a prospective customer's number one call to action, e.g., requesting a quote or perusing your product catalog.