Our Vision
Teaching yoga to others and ensuring that is it practised safely is what drives YogaGem. Correct alignment and making a warm welcoming and affordable environment is key to building the community. Annoyed at being a sardine in a tin at a yoga class, or attending night after night and still no one talking to you YogaGem is about getting to know the attendees. Classes are tailored to what you want to work on each week. The church setting enables us to practise in a calm setting and light REAL candles for a truly magical experience.
Our Story
YogaGem started in a park offering free classes one summer, there were many failed attempts at finding the right venue and then I realised the answer was sitting under my nose the entire time. St Barnabas Church was the perfect venue, a beautiful wooden floor, more candles than a wizard would know about. I felt the only way to gather a yoga community reflective of YogaGem was to hold it in a peaceful landmark central to the community that was so close to my heart after living there for years.
Meet the Team
Everyone has an inner God or Goddess to connect with and my goal is to connect you with yours. Gemma's yoga classes are a full body to mind connection. Meditation, flowing yoga sequence and a massage with essential oils ensure you go home feeling peaceful and at one with yourself.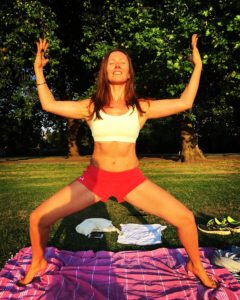 Gemma Tomkinson 
Founder & CEO
Began practising yoga in 2014 when the work/life balance wasn't working. Yoga was an instant way of becoming strong in body and mind and quickly became a social activity to take friends to. In 2017, because a qualified 200hr RYT yoga teacher with Yogahaven. Initially it was to deepen a personal practice. However, quickly this passion became a project and within 6 months Yogagem grew from a karma class in the park to three classes a week, pregnancy yoga, corporate yoga teacher & a member of the Disco Yoga team! Also practised with Stewart Gilchrist, Celeste Pereira, Adam Hustler, Minnar Martinez & Lara Heimann.
Next Steps…
Come and join us! We can't wait to meet you and be part of this yoga journey and growing community.